collected by :Roy Mark
While a release date has not been announced yet, rumours suggest the phone could be launched on 31 July.
A new leak from Chinese social site Baidu claims to show the Nokia 8 flagship phone from all angles
The photos suggest the phone has a dual camera setup with flash and comes in a copper gold finish.
The remake of the Nokia 3310 was announced at the Mobile World Congress (MWC), held in Barcelona in February.
A spokesperson for Nokia said: 'Thin, light and incredibly durable, the Nokia 3310 is a head turning modern twist on one of the best-selling feature phones of all time.
Nokia 8 phone in Copper gold colour leaked in live photoes another time
As it stated in These are the first real-world photos we've seen of the handset, as we've previously only seen leaked renders of the device .
Ahead of its London announcement on August 16, 2017, the upcoming Nokia 8 has purportedly been seen 'in the flesh' thanks to some leaked photos from Slashleaks user " leakspinner ".
We'll know more when the Nokia 8 is officially unveiled next month.
Image 1 of 5 Image 2 of 5 Image 3 of 5 Image 4 of 5 Image 5 of 5Interestingly, the "Zeiss" branding that was seen in the aforementioned renders is absent in the newly-leaked photos.
We've so far glimpsed the phone in a blue finish, but given that a retailer has listed the phone as also available in "gold/copper", the newly leaked images are likely of that handset.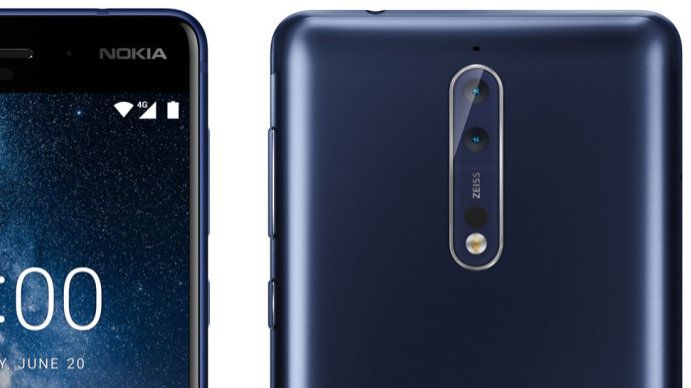 As it stated in Now some more new live images of the Copper gold Nokia 8 leaks online.
Several real life images of Nokia 8 is Copper gold colour leaked earlier, which shows no Zeiss logo, but confirms dual camera at the back.
Nokia 8, which is rumoured to launch in a few more days will come in Copper gold colour.
Also Read: Copper gold Nokia 8 leaked in live images, does not have Zeiss logoThe new leak further reveals that Nokia 8 is going to be an affordable smartphone, and will go against flagship phones like the OnePlus 5.
However, the missing Zeiss branding on the new Nokia 8 (Copper gold) leaves us in double thoughts.